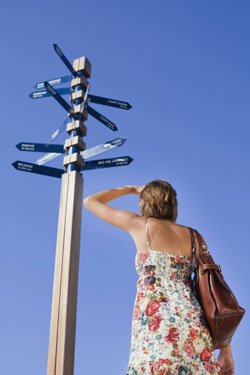 A lot of people are looking to the internet to find a lawyer, so here are our....
Thoughts On Finding a Good Lawyer
Internet Directories: The internet is a great tool, but it may not have made finding a lawyer easier. In fact, it may be tougher than ever to weed out the good from the bad. There are numerous directories and referral services available, but most of them can't be relied on for truly independent referrals. Many of these directories get their money from lawyers who pay to be listed, and some are paid for every client referred. There is virtually no independent review of the attorney's background or ability. Whoever pays gets listed. Just because a lawyer or law firm appears high on a search engine inquiry doesn't mean they are good. Lawyers who appear in "top spots" on some of the search engines may have paid to get there, and others have simply hired internet gurus who have figured out how to place their clients at or near the top.
The Best Sites: If you are in need of an attorney, and don't have a good referral source, in our opinion, the best overall sites to find a lawyer are www.findlaw.com, www.lawyers.com, www.martindale.com and www.avvo.com. These are the largest, most complete, and best known. While they also derive some of their revenue from attorneys who pay to be listed, we like them because they are able to provide the most names of lawyers local to your city who practice in the specific area of law you might be looking for. Martindale-Hubbell, which sponsors the www.martindale.com site, is a company that independently evaluates attorneys. The evaluations, which are done confidentially by lawyers and judges, is based on both legal ability and ethics. The highest rating Martindale gives is an "av" rating and is one of the best assessments of an attorney's overall credentials.
Referrals: Good or Bad? We don't necessarily prescribe to the belief that personal referrals are the "only" or "best" way to find a lawyer. A great deal depends on who the referral is from. Actually, most of our clients hired their malpracticing lawyers based on someone's referral or recommendation. Rely on referrals if they are from a reputable or knowledgeable source. Sometimes lawyers pay for referrals and, while a referral fee is not necessarily grounds for disqualifying someone, it does mean paying a little closer attention.
Interview First: We are strong believers in interviewing attorneys. Having the opportunity to meet, see and hear your lawyer before you hire him or her is very important. (That's one of the reasons we posted a somewhat lengthy video introduction to William Gwire on this site). If you have an important case (and isn't your case important to you?), then make the effort to interview at least two, maybe three attorneys. Most attorneys won't charge for an initial consultation, but do it even if you have to pay for their initial time; it's worth the extra money. The personal relationship between an attorney and client can be as important as the competence of the lawyer and the fees charged. Interviewing several lawyers will also give you the benefit of several perspectives on your case.
Pit Bulls in Suits: Overly aggressive and unreasonable lawyers may not be in your best interest. Very often, a "take no prisoners" or "scorched earth" approach to litigation will mean a similar response from the other side, all of which will translate into higher legal fees for you, and possibly even a lost case. Don't necessarily be swayed by or attracted to lawyers who act like pit bulls in suits. Also, don't be overly impressed by attorneys who are immediately confident, even boastful about the success they can achieve on your case. Good, experienced lawyers know that handling a case from beginning to end can be a difficult and tricky process. In law, as in life, there are very few guaranteed things.
What About Track Records? Finally, don't be fooled by lawyers "track records". Lawyers who claim that they've "won" all their cases (or nearly all their cases) are either not telling the truth or not taking tough cases to trial. Even the best lawyers lose cases. And, realize that a "win" might not really be a win. If a lawyer has a case that most lawyers would agree is worth a million dollars and the lawyer tries the case and gets a verdict of $300,000, is it a "win"? I once sued a firm claiming that its "track record" was highly questionable if not bogus. The case settled (confidentially), but I recently noticed that the firm has taken down its claimed track record.
In the end, use your best judgment about people, and if you realize you're a bad judge of character, bring someone to the first meeting that you know has a good sense for people.